Similar Post:
---
FlashGot!
FlashGot is the free add-on for
Firefox
and
Thunderbird
, meant to handle single and massive ("all" and "selection") downloads with several external Download Managers.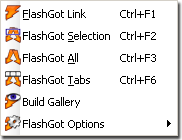 for Windows (BitComet, Download Accelerator Plus, DownloadStudio, FlareGet, FlashGet, Free Download Manager, Fresh Download, GetRight, GigaGet, HiDownload, iGetter, InstantGet, Internet Download Accelerator, Internet Download Manager, JDownloader, LeechGet, Mass Downloader, Net Transport, NetXfer (Net Transport 2), NetAnts, Orbit, ReGet, Retriever*, Star Downloader, Thunder (Chinese only popular product), TrueDownloader and Ukrainian Download Master [Russian language only] ), Uget, WellGet, wxDFast
for Linux / FreeBSD / other Unix-like OSes (Aria, Axel Download Accelerator, cURL, Downloader 4 X, FatRat, GNOME Gwget, FatRat, JDownloader, KDE KGet, SteadyFlow, Uget, wxDFast ).
Many Windows-only download manager are supported on Linux through Wine!
FlashGot turns every supported download manager into a download manager for Firefox!
Installation?
To install FlashGot add-on for Firefox, open Firefox and click on "Tools" tab and select "Add-ons" OR press "Ctrl+Shift+A".

In search box type "FlashGot" and press enter.

Select "FlashGot" and click on install button to install it as shown in figure above.

Now installation is done. To use FlashGot restart Firefox.


[You can also install FlashGot otherwise. Go to http://flashgot.net/getit and click on install button. But I recommend you to go for above method]
Installing UGet Downloader

To install UGet open

Terminal(Ctrl+Alt+T)

and type "

sudo apt-get install uget

".

You can use other downloader some are
given in introduction section
.
ScreenShots:
---

Free Downloader for Ubuntu / Linux.

Best Downloader for Ubuntu / Linux.

Downloader for Ubuntu / Linux Without Wine.

---